2019 Fargo Convention Info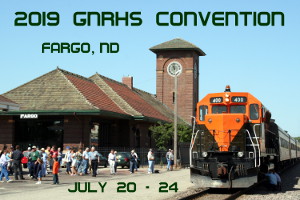 Regular regstration has been extended until June 22nd. Register soon!
Convention Update 6/15:
Hustle Muscle in Fargo
We are pleased to announce that GN 400 "Hustle Muscle" will be at the 2019 GNRHS Convention in Fargo.  Attendees will have the opportunity to view Hustle Muscle "up close and personal" (bring your camera) as a part of the Monday, July 22 "Railroad Tour of the Greater Fargo Area".  BNSF is hosting Hustle Muscle at Dilworth Yard; due to security issues, entrance to the yard and viewing will be by Convention Badge only. Due to safety issues, no sandals or open toed shoes will be allowed for this viewing. More details will be provided at the Sunday evening presentation at 8:25 PM -- "Monday AM Fargo-Moorhead Rail Tour Orientation". 
If you did NOT sign up for this tour and are now interested in seeing Hustle Muscle, please contact the Convention Officer to register for the tour.  Cost for the tour is $40 and includes lunch.
Open House Viewing of O Scale Railroad
Bill Flint of Fargo ND will be opening his house for viewing of his O Scale Railroad on Saturday evening, July 20.  There is NO CHARGE for this opportunity.  Transportation to the location will be "ride-share" and we will be looking for volunteers to drive.  If you don't want to sit in the hotel on Saturday evening, this is a great opportunity to see a local operating model railroad.  More information will be available when you pick up your registration packet.  Sign up will be done at registration.
Because of these last-minute additions and because the GOAT is just now being delivered for June, we are extending EARLY Registration to June 22.  No late registration fee will be due if your registration is postmarked by June 22.
Come join your fellow GNRHS members at the 2019 Fargo Convention.  We'd love to see you there.
---
Welcome to Fargo, North Dakota for the 2019 GNRHS convention, July 20 to 24.
The 2019 convention will focus on the history of the Great Northern in the greater Fargo, ND area with tours and presentations. The usual staples of the GNRHS convention; the railfair, banquet, raffle and the Model Display are also part of the great line-up we will have this year.
Presentations
Presentations will cover the Fargo depot, Dakota Division, Railroading Across the Dakota Prairie, GN heavyweight and streamlined passenger car modeling, WFE reefer modeling, and much, much more.
Tours
Saturday July 20th
We kick off our great line-up of tours on Saturday with a visit to the Western Minnesota Steam Threshers Reunion Grounds in Rollag, MN. Railroad tracks surround a lake and pass the Great Northern depot from Baker, MN, a Northern Pacific depot, and a Milwaukee Road depot, and an operating railroad turntable and a multi-stall engine house. This late morning to midafternoon tour will allow us to view the largest collection of vintage railroad equipment in the area. The WMSTR uses a former Soo Line 0-6-0 to pull former GN stock cars and Soo Line box cars which have been modified to allow visitors to view the grounds while circling the area and the lake. Read more...
Monday July 22nd
On Monday we offer two tours. A rail tour, and a non-rail tour with a pinch of railroad history.
Our rail tour will be a Railroad Tour of the Greater Fargo Area: Fargo was served by three railroads: the Great Northern and Northern Pacific mainlines and a Milwaukee Road branch line. This bus tour will start in the morning after a brief orientation presentation; and will return in the late afternoon. A box lunch will be provided at the railroad park in Dilworth where a NP steam loco, caboose, and depot are on display. Both the GN and NP passenger depots have been restored and repurposed; as has been the Milwaukee Road freight depot. The Fargo GN Yard was positioned between the diverging lines: northward to Grand Forks, and northwest to Surrey and Minot. Read more...
On Monday we'll also have a non-rail tour that will appeal to many: a Distillery, Winery and Lunch Tour. We will travel south of Fargo by bus to Dakota Vines Vineyard and Winery for lunch, wine tasting and a tour of the Vineyard. Afterward, we will travel back to Fargo to Prairie Rose Meadery. Mead is a wine-like beverage from honey, and we will sample their products and see how it is produced. Then we will travel to Drekker Brewery, one of the first beer breweries in the area. They have opened a new brew house inside one of the original Northern Pacific Railroad car shops that were built in the late 1800s when the NP was based in Fargo. After seeing their brewing space, we can sample their products as well. We will return to the hotel afterward. The entire tour is by 28 passenger bus and is expected to take 4 hours.
Tuesday July 23rd
On Tuesday we'll have a rail tour to the Bonanzaville Museums and Service Oil Railroad Equipment & Shops. Bonanzaville & Pioneer Museum in West Fargo is home to the Spud Valley Model Railroad Club housed in one of the two NP frame depots on display. The only remaining NP 4-4-0 steam locomotive is on display. The village includes many small-town buildings, most with original interiors on display, and large buildings contain a wide display of modes of land and air vehicles. A large modern brick building at the entrance to the grounds displays many vintage artifacts. This afternoon tour will also include a stop to view the railroad equipment on site at the Service Oil Company. The passenger car shop will be open for viewing. This facility is a functioning oil distributing company, but it includes a large number of vintage equipment in various states of condition. It is expected that an operational SW-1 will be on site along with tank cars including former GN tank cars. Often private railcars are in the shop for storage or various levels of work.
Wednesday July 24th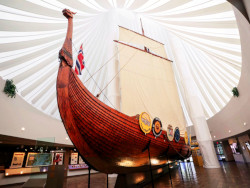 On Wednesday we'll have a non-rail tour to the Hjemkomst Center & Clay County Museum and Plains Art Museum. The Hjemkomst Center is home to a Viking longship and a stave church. This full size replica of a Viking longship was sailed from Duluth to Norway before being returned and put on display. This location is also the Clay County Museum which includes some area railroad photographs on the lower level. This afternoon tour will also include a visit to the Plains Art Museum.
Download the Detailed Tour Information Sheet for all details on the tours.
Please see the preliminary Convention Timecard for the times of the tours and presentations (subject to change).
---
Hotel
Our convention headquarters will be the Holiday Inn Fargo hotel.
Please see the Hotel Information Sheet for more information and how to reserve.
Banquet
Please see the Banquet Information Sheet for this year's dinner choices.
Registration
Register Online (sign-in first) or mail in the convention registration form included in the March issue of the Goat. This form is also available for download . Registration closes June 22. Late registration and registration at the convention will be available. See the registration form for details.
Posted on March 3, 2019 by, Ben Ringnalda, Retired Webmaster