2017 Sioux Falls Convention Info
Welcome to Sioux City, South Dakota for the 2017 GNRHS convention, September 16 to 20.
The 2017 convention will focus on the history of the Great Northern in the Sioux Falls area with tours and presentations. The usual staples of the GNRHS convention; the railfair, model and photo contest, and banquet are of course also part of the great line-up we have this year.
Presentations
Presentations will cover the Early Railroads of South Dakota and GN Development in the State, GN's Willmar to Sioux City Line, The Watertown and Sioux Falls Railroad Company and much, much more.
Tours
NEW: Friday tour added 3/30/2017
We kick off a great line-up of tours with a pre-convention tour on Friday. Great for early arrivers, this tour of the Midwest Railcar Repair facility in Brandon, SD will give us a great behind-the-scenes look at how railcars are maintained and repaired.
Saturday's tour will take us to the Prairie Village in Madison, SD where you can experience prairie life as it was in the old days. Visit period buildings, the old Great Northern/MILW Wentworth, SD depot, the MILW Junius depot and many other interesting buildings.
Visit the Prairie Village railroad with its own 0-6-0 and 0-4-0 steam locomotives as well as a beautifully restored chapel car, the small roundhouse with turntable, and much more!
There will be two non-rail tours during the convention, one to the Old Courthouse Museum, Pettigrew House and Cathedral of St. Joseph,
and the other an Excursion to Falls Park, 8th and Railroad St Shoppes and Wine/Beer Tasting at Prairie Berry.
On Tuesday we will tour the Milwaukee Road Shops Historic District and see beautifully restored Great Northern H-5 4-6-2 #1355 in Sioux City, IA.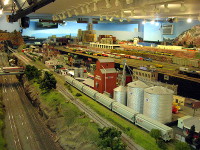 No convention would be complete without our famous Model Railroad Tour! This year we will be visiting a local club layout (the Sioux Valley Model Engineers Society) as well as two private layouts.
Please see the Detailed Tour Information Sheet for details on all tours.
Hustle Muscle
TENTATIVE!
We are hoping to get our own GN SD45 #400 'Huscle Muscle' down to the original Great Northern depot in Sioux Falls. Both should then be open for visits.
Check back later for confirmation.
Please see the preliminary Convention Timecard for the times of the tours and presentations (subject to change).
Hotel
Our convention headquarters will be the Holiday Inn Sioux Falls City Centre Hotel.
Please see the Hotel Information Sheet for more information and how to reserve.
Banquet
Please see the Banquet Information Sheet for this year's dinner choices.
Registration
Register Online or mail in the convention registration form included in the March issue of the Goat. This form is also available for download . Registration closes August 12. Late registration and registration at the convention will be available. See the registration form for details.