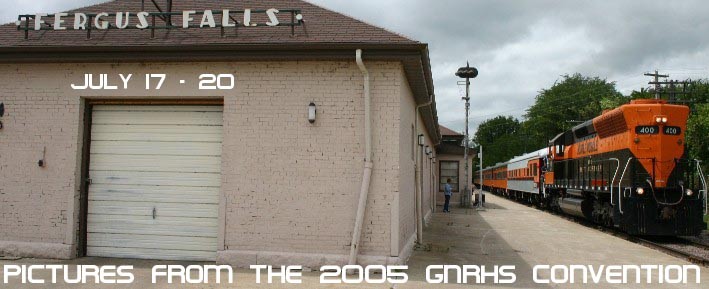 Wednesday, July 20, 2005


Photos from left to right:
Bus tour - Fergus Falls, Breckinridge and Rollag museum:
#1: GN caboose X-111; #2: Breckinridge depot; #3: Red River Valley & Western freight passes GNRHS fans on its run west. #4: Inside X-111 caboose; #5: Fading GN logo on Breckinridge depot.
#6: ex-GN X-1500 Bros Plow in RRV&W yard; #7: Having lunch at the Eagles club in Wahpeton, ND; #8: Baker, MN depot at the Rollag, MN museum. #9: Interior of Baker depot; #10: Ex-GN stock car; #11: Engine house at Rollag museum.

Banquet and raffle prizes:
#1: The buffet line; #2 & #3: Socializing at the banquet; #4: Choir sings to us in Norwegian! (Ya sure, ya betcha!) #5: Bill Sornsin, Jeff Otto and Duane Buck have a chat.
#6: Rick Bolger wins the Casey Adams award; #7: Well-dressed gentleman holds up one of the door prizes; #8: Raffle ticket prizes on display; #9: Phil Gjevre wins a caboose; #10: Lindsay Korst wins Oriental Limited artwork as Bob Ulberg looks on (Rick Bolger photo).
#10: One of the Art-by-Scotty prizes; #11 Duane Buck addresses the banquet; #12: Randy wins one of the Western Star artwork prizes; #14: Jim Larson decked out in his conductor's uniform.