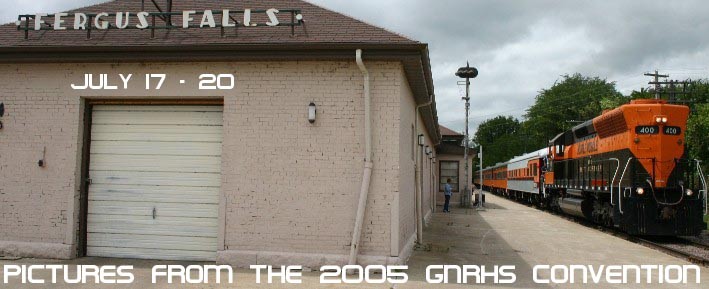 Monday, July 18, 2005


Photos from left to right:
GNRHS Board Meeting continued on Monday morning.
#1: President Duane Buck; #2: Dave Thorsett, Cliff Salmon, Jim Knollmiller, Phil Gjevre; #3: Duane Buck and Bev Tracy; #4: Secretary Ray Chappell; #5: Bruce Barsness, Peter Thompson, Martin Evoy, Jim Chinquist, Bill Sornsin, Bob Bye.

Candid photos at the Rail Fare (swap meet):
#1: Caroline Chinquist; #2: John Tracy (center) selling raffle tickets; #3: GNRHS members examine some of the raffle ticket prizes; #4 Ben Ringnalda displays progress on his Saint Nicholas Mountain GN 1291 restoration project.

Model contest entries:
#1: Scale Test Car; #2: GN U-Boat in Big Sky Blue; #3: Willmar depot; #4: GN 1327 2-8-0 steam locomotive; #5: huge model of X-582 caboose.
#6: GN 661 EMD Geep 9; #7: GN 184 Alco RS-3; #8: GN 262A&B F-units; #9: GN hopper car.

Casey Adams photo contest entries:
#1: Whitefish depot; #2: GN gondola and details; #3: Wellington disaster photo; #4: GN P-2 #2520.

Fergus Falls depots and former section house
#1: Current FF depot looking west; #2: Current FF depot looking east; #3: Previous FF depot (now a triplex moved back from the tracks); #4: Another view of previous FF depot; #5: GN section house moved back from tracks used as a residence by grandson of GN MOW worker.

2005 GNRHS Convention Model Cars (CLICK HERE for ordering information)
GN 73732
GN 73743

GN 400 EMD SD45 Hustle Muscle photos and cab ride
#1: GN 400 pulls past FF depot long nose forward; #2: Ron Erickson poses with Hustle Muscle; #3: Interior of cab; #4: Close up of Hustle Muscle lettering from running board; #5: Ron Erickson running GN 400.
#6: Electrical cabinet; #7: Bill Sornsin (white shirt) and Kris Werner (holding camera) talk to Ottertail Valley Railroad employees; #8: close up of numberboard; #9: 3/4 view, engineer's side.
#10: 3/4 view, fireman's side; #11: Ron Sherry operates GN 400; #12: Ron Erickson at the throttle; #13: Ben Ringnalda running Hustle Muscle; #14: Lindsay Korst playing engineer.

Monday afternoon presentations:
#1: Crowd shot left side of room; #2: Crowd shot right side of room; #3: Jim Larson; #4: Mayor of Fergus Falls, the Honorable Russell Anderson; #5: Phil Gjevre; #6: Jerry Hilton giving his talk on Lee Pickett photos.