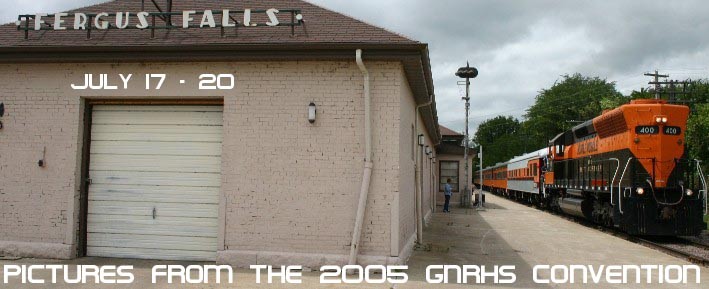 Sunday, July 17, 2005


Photos from left to right:
GNRHS Rocky's Awards were presented to the following individuals by President Jim Larson:
#1: Bruce Barsness; #2: Cliff Salmon; #3: Ron Erickson; #4: Scott Tanner (Bill Sornsin accepting in Scott's absence).
Update: On Saturday, September 24th, 2005 upon the steps of the Skykomish, Washington Grade School (and right next to the former Great Northern Cascade Division mainline), Bill Sornsin presented Scott Tanner with his GNRHS Rocky's Award.

Bus trip to Fargo, ND brewery and restaurant in the ex-GN station.
#1: Brewery logo etched in glass door; #2: Fargo depot tower; #3: Fargo depot exterior; #4, #5, #6: GNRHS Members enjoy a steak dinner and beverage.