Post Convention Tour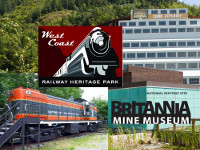 Following the convention, Thursday September 20th through Saturday September 22nd, convention organizers are offering an optional three day Post Convention Tour to British Columbia.
This tour takes us to the West Coast Railway Association's Heritage Park in Squamish, BC. Upon arrival, you will be served a lunch in the station and spend the afternoon touring their extensive facility. Dinner and an evening presentation will take place in the CN Roundhouse Conference Centre which also houses the famed Royal Hudson Locomotive. While at the Heritage Park, you will see the newly restored and repainted Great Northern transfer caboose that formerly worked in the yard at New Westminster BC. There is a Great Northern-painted RS-1 in their collection and the CTC board from the White Rock GN Depot is on display in one of the restored passenger cars. You also get to ride their 7.5-inch mini-rail around the park and enjoy their garden railway.
The following day you will visit the Britannia Mine National Historic Site where you ride their underground railway, tour the mine and town site and enjoy a BBQ lunch. Following lunch, you enjoy the option of free time at Heritage Park, visiting an operating Great Northern HO Layout or a nature walk at Shannon Falls Provincial Park. Dinner that evening will be in the CN Roundhouse, followed by a ride on their restored heritage train, where dessert will be served.
Schedule
Please see the Post Convention Tour timecard for detailed information on this trip.
Registration
The tour requires registration on the GNRHS annual convention registration form. Attendance at the GNRHS convention is required to participate in this post-convention tour. Registrations will be on a first come, first serve basis by date registration is received by the Convention Registrar
This tour must be registered by July 18 due to hotel booking deadline.
Single or Double Accommodation and breakfast on Friday and Saturday mornings will be at the Sandman Inn Squamish, a short distance from the Heritage Park.
The tour is subject to both a minimum and a maximum of 50 participants. A waiting list will be maintained after the maximum is reached; however, there is no guarantee that space will be available for those on the waiting list.
Registration Fee
Single Occupancy:                  $503 per person
Double Occupancy:                 $400 per person
Tour cost includes: two night's lodging at the Sandman Inn including continental breakfast on Friday and Saturday, entrance fees to the West Coast Railway Association's Heritage Park and Britannia Mine; lunch and dinner on Thursday; lunch and dinner on Friday. Snacks/refreshments and personal items purchased during the tour will be the responsibility of the registrant.
Cancellations for the tour must be received by July 19 to receive a refund for your registration costs. Cancellations after July 19 will be honored ONLY if there is someone on the waiting list to substitute in your place. If you are requesting double occupancy, you will need to tell us with whom you will be sharing a room; we will not randomly assign you a roommate.
The registrant will need to comply with all Canadian and US Border Customs regulations. Valid passports and/or international papers will be required.
Register online:
You may use the Company Store to register and pay for your participation. Please go to the Convention Registration form (sign-in first) and choose the desired occupancy.
Register by mail:
Please fill out the Convention Registration form and send it together with your check to the Convention Registrar. Please make checks out to "Great Northern Railway Historical Society".